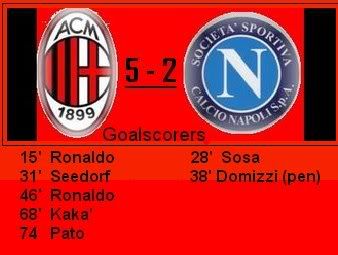 What a fantastic match Milan had, this was match that was played with a heart. Milan started pretty well with an immediate offensive line up from Carlo Ancelloti with two attackers upfront (Ronaldo and Pato) and one attacking midfielder (Kaka') right behind them. The result of such an game came just after 15 minutes when Ronaldo scored his first from two goals on this match. The communication between Brazil trio Ronaldo- Kaka- Pato was in the highest possible level and they have played just one official match together, which means that the half season that remains should be bright for Milan. Ronaldo made fantastic comeback with two goals, Kaka was magical just like always and Pato has shown that he is the future of modern world football. Other players that should be said a word or two are Seedorf (who scored the 2nd goal for Milan) and Pirlo who was remarkable and showed why he's one of the best assistants today. A match full of emotions for our young star Pato, he was excellent at this match by scoring in his debut for Milan. On Pato's history record will be noted that on 13.01.2008 against Napoli, Pato has scored the first goal in his carrier for AC Milan in an official match. Forza Milan, Grande Milan, Superb Milan!!!!

Ancelotti congratulates Ronaldo for successfully comeback, praises Seedorf and Pato for their performances:

"He has great quality. It was his first game and some mechanisms must be perfected. However he was very, very good.
Pato has pace, the ability to turn and shoot.
We could see that in training as well, so now we have to work on how to provide him with better service. He certainly has the talent.
We had a risky approach, but that was necessary at this stage of the season to get the victory and the team responded well.
Napoli's first goal came because we were unbalanced, the second was Kakha Kaladze's error for the penalty.
Massimo Ambrosini obviously has to put even more work in with this system and it's tough.
He did a lot better in keeping his position in the second half. Ronaldo and Pato have never played together, so a few risks were bound to be taken.
It is a problem we have to face in the future and it won't be an easy decision, as we have a great midfield and wonderful strikers," responded Ancelotti.
In some games we will need someone to step aside and will use those occasions so that players can have a breather to be fresh all the way to the end of the campaign.I would always like to see Seedorf play with this spirit and he was probably Man of the Match for me.
He was involved in every move and we all have to be very alert to make the most of this system. Seedorf feels he is a Trequartista and played a crucial role in winning the Champions League last year. He is not the only one who must make a sacrifice for the team, but everyone has to work together for
the squad"