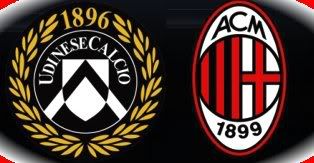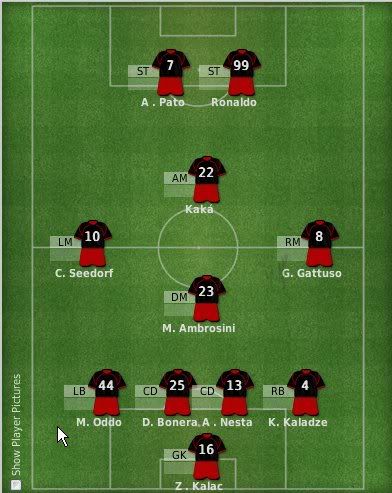 Possible Milan formation against Udinese
Italian Serie A
Udinese (32 pts., 4th) vs. AC Milan (21 pts., 12th)
Sunday January 20, 15:00 (CET)
Stadio Friuli, Udine
This match will be played in honor of Maldini who exactly this day exactly against the same opponent 23 years ago had his debut for Milan in age of 16. Now few months before Maldini retirement he will celebrate his 23rd season with Milan against the same opponent, Udinese.
Carlo Ancelotti has decided not to call Maldini for this match and leave him in Milano to rest, instead he called Simic who will sit on the bench and wait his chance. Last match against Napoli the trident Ka-Pa-Ro was successfully lunched and it will again be tested against more serious team as Udinese is, and they proved that by sitting comfortable on the 4Th
place of
Seria A table.
Milan news say that Pirlo will not be able to help his teammates because of too much yellow cards and he was suspended, Gourcuff was chosen to replace him on the bench. Maldini will also miss this match because of flu.
I hope in Milan win and hope again KA-PA-RO Show in Udine...
Forza Milan, Forza Rossoneri !!!
These are the called-up players of Carlo Ancelotti for the away game of Udine.
GOALKEEPERS:
Kalac, Fiori, Offredi
DEFENDERS:
Bonera, Digao, Favalli, Kaladze, Nesta, Oddo, Simic
MIDFIELDERS:
Ambrosini, Brocchi, Emerson, Gattuso, Gourcuff, Kakà, Seedorf
ATTACKERS:
Gilardino, Pato, Ronaldo

Milan form last 5 matches: (WLLWD)

12/16 Milan 4-2 Boca Juniors World Club Cup
12/20 Milan 1-2 Catania Coppa Italia
12/23 Inter 2-1 Milan Serie A
1/13 Milan 5-2 Napoli Serie A
1/16 Catania 1-1 Milan Coppa Italia
My Prediction:
Udinese 1-3 Milan